Procedure to install Fonts in the PC:
---

When you Left-click on the font "Download file here" and a "save file" screen will pop up. Then select the folder into which you want to save the zipped file. You save it one folder.
With WinZip, unzip the font. Please note down the folder where you saved the unzipped file.
Now you go to the Windows 95/98/NT Desktop
Step 1. Double-click the "My Computer"


Step 2. The "My Computer" window will open.

Step 3. Double-click the "Control Panel"
Step 4. The "Control Panel" window will open.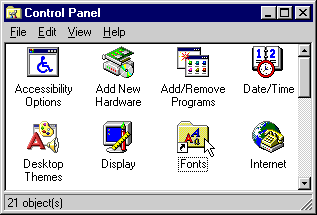 Step 5. Double-click the "Fonts"


Step 6. The "Fonts" window will open showing you the installed fonts.
Step 7. Click on "File" and when the pop-down window appears select "Install New Fonts".
Step 8. The "Add Fonts" window will appear.
Then this default window will come. Now navigate the folder where you have saved the unzipped file. After the font is loaded, they will be shown in the white text box labelled "List of Fonts". You can click on the font, press the OK button. The font(s) will then be installed. Then close the all windows and start Microsoft word and start working. Before you can install new version of the same font, you must delete the old font using the delete window.
The procedure above will work only if you have not copied the .ttf file to \windows\fonts directory. Another way of installing fonts is that just copy the .ttf file to \windows\fonts. But in this case, if you copy another version of the .ttf file second time to \windows\fonts, it will not get installed. In this case, if you delete the old installation using fonts window from the control panel, the new one version gets automatically installed.

---

Disclaimer: This site is Neither affiliated with any company, nor company mentioned on this page have endorsed the information in any way. The information contained on this page is simply the opinion of this site's author and the author will not be held liable for consequences us using these instructions. It is best to read the manual provided by the company which makes the product.